Book
No budget for public relations? No problem.
Here's a simple book to help your business grow…
By Melanie Rembrandt
How to do your own public relations to boost sales, awareness and credibility fast… without wasting time, money or other resources!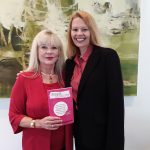 Foreword by Lee Milteer
Business and Life Strategist, Author, Speaker and Coach
www.leemilteer.com
DON'T READ THIS BOOK unless you want to boost sales, awareness and credibility for your business right away.
This book gives you the inside secrets and a simple, step-by-step guide to build buzz without spending a fortune. You'll learn the public relations' (PR) skills necessary to take advantage of "the power of the press," and gain third-party credibility you simply cannot obtain any other way.
If you want to take your business to the next level of success quickly and easily, read this book!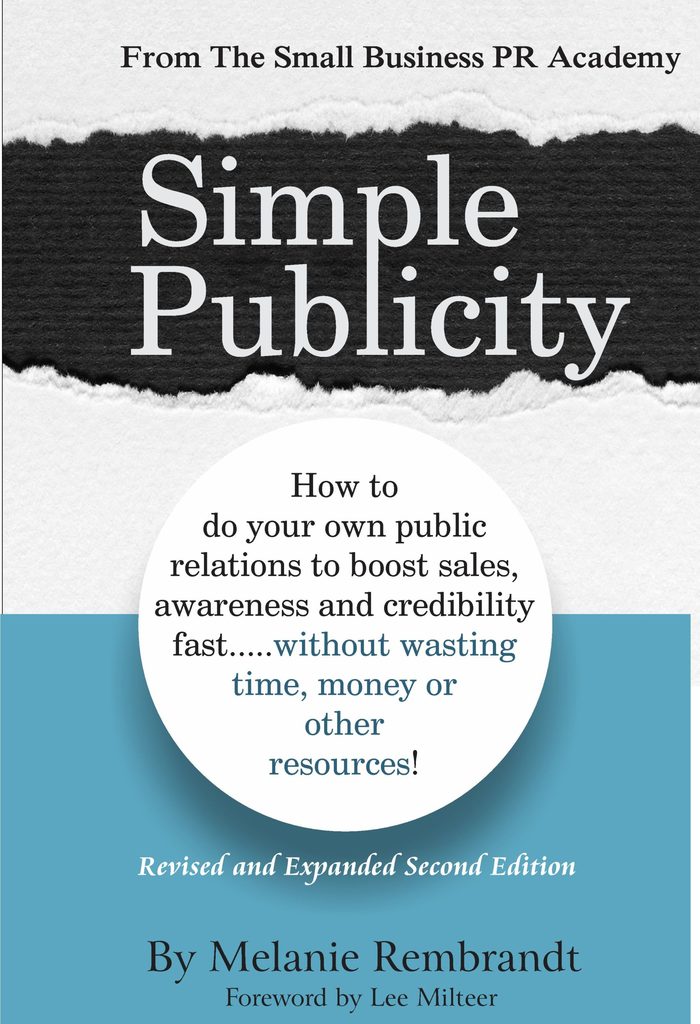 SECRETS INSIDE WAITING FOR YOU TO DISCOVER
The #1 way to get media attention (Hint – It's really easy!)
What never to say or do when talking to a reporter and why
The top 4 PR myths – Exposed!
What not to wear during a television interview… and much more!
BUZZ ABOUT THIS BOOK
Many of you know or at least know of Melanie Rembrandt, a successful copywriter. Her new book, 'Simple Publicity', is a solid, how-to book well worth reading and having – get it at Amazon. It's got plenty of checklists, templates doe's and don't's, resources.
Simple Publicity' is a simple read that provides valuable, public relations information for small business owners who want to build buzz and grow their organizations quickly and cost-effectively.
If you're a small business person, and you don't have a budget for this [PR], but you're interested in how it works, either to do a little bit of it on your own, or to be aware so that when your budget grows, you are able to work with somebody like Melanie, 'Simple Publicity' is the book to get and to have on your bookshelf. It [the boook] explains the mechanisms and mechanics of PR, and this is very important to know how the game is played. But it also involves a lot of direct response smarts in the PR process. It weaves it together, which very, very few PR people are able to do. They don't really think in terms of direct response. So, when you combine those two things, it's very powerful.
If you are starting a business and want to build credibility and bring in new sales fast using the power of publicity, check out this book. In a matter of hours, you'll know how to contact the media to get press coverage, give great interviews, and create press-releases and media kits, and much more!
Simple Publicity is more than a book – it's a resource for business growth. Melanie writes in an easy-to-understand way and makes PR seem like child's play. Seriously, she removes the confusion, anxiety, and hurdles that will allow you to use PR in your marketing mix to increase your exposure, gain more clients, and grow your revenue. You'll learn the #1 Secret to Getting Press, How to Craft Your Pitch, and What Not to Say when being interviewed. With all of the hype around social media, it's refreshing to hear someone talk about business growth using Simple Publicity."
There are hundreds of books out there related to public relations and marketing, but "Simple Publicity" by Melanie Rembrandt breaks through all that clutter. It's provides easy-to-read tips and guidance on how to build buzz — without spending a lot of cash. Anyone from new business owners to entrepreneurs can benefit from her expertise. She explains how to talk to reporters, write press releases and media kits, and even what to wear during an interview. She also sheds light on the mysterious world of search engine optimization. If you're busy and overwhelmed with information but still want to find a way to get the word out about your business, then this book is for you. This book really helped me think about how to get word out about my products — and especially how to do it myself, without paying tons of money to someone else. From crafting pitches to thinking big-picture about how to present oneself, this book has a ton of useful ideas.
KIMBERLY PALMER
Money Editor U.S. News & World Report, Author of "The Economy of You: Discover Your Inner Entrepreneur and Recession-Proof Your Life."