Book
No budget for public relations? No problem.
Here's a simple book to help your business grow…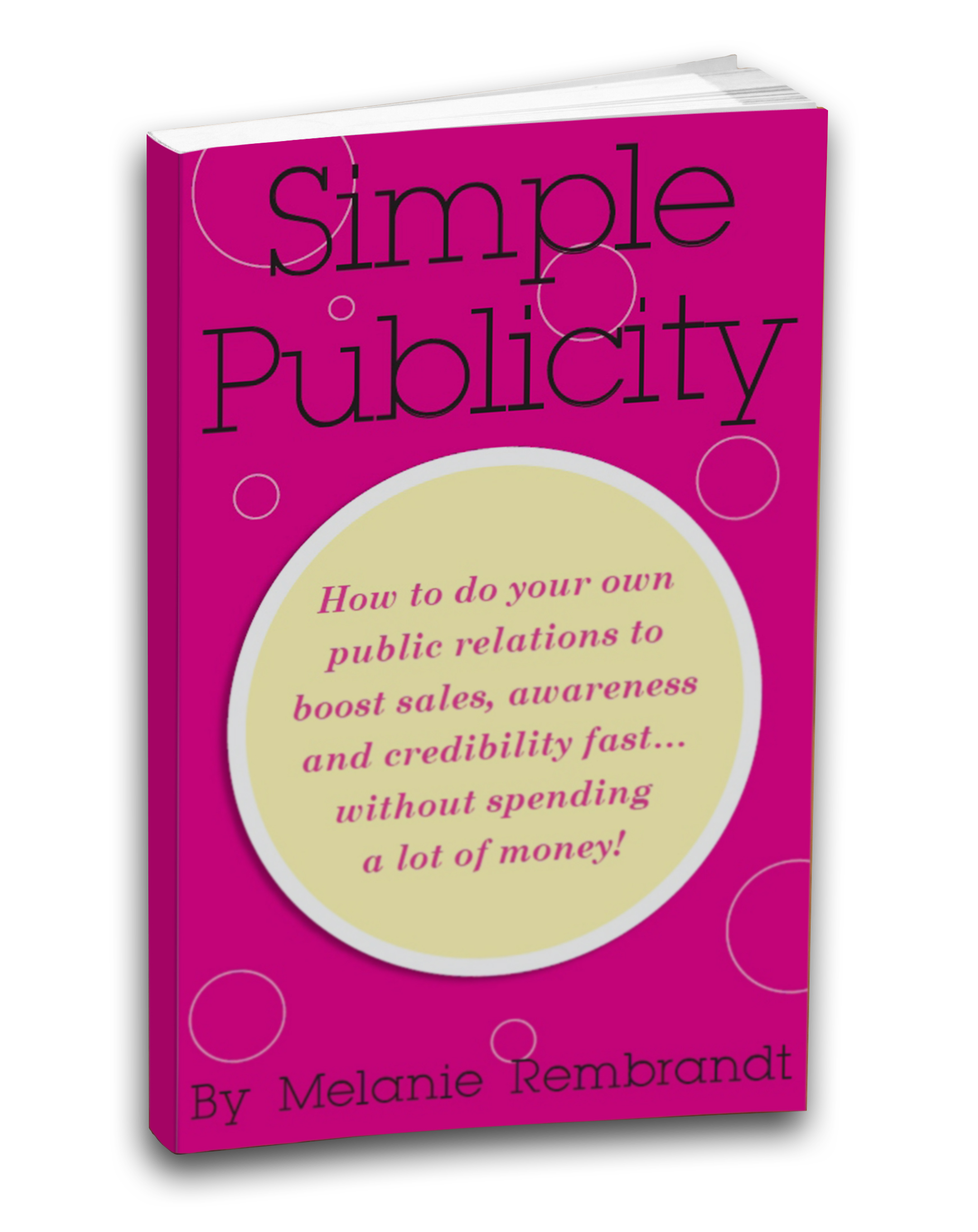 "Simple Publicity – How to do your own public relations to boost sales, awareness and credibility fast… without spending a lot of money!"
By Melanie Rembrandt
DON'T READ THIS BOOK unless you want to boost sales, awareness and credibility for your business right away.
By communicating the right messages about your products and services to targeted media-members and customers at the right time and place (public relations or PR), you can reach your goals fast and cost-effectively.
And now, you can take advantage of the power of the press on your own without spending a fortune!
This book gives you the inside secrets and a simple, step-by-step guide to build buzz and get noticed by the media.
In a matter of hours, you'll learn the PR skills necessary to take advantage of free publicity and gain third-party credibility you simply cannot obtain any other way.
If you want to take your business to the next level of success quickly and easily, read this book!
SECRETS INSIDE WAITING FOR YOU TO DISCOVER:
The #1 way to get media attention (Hint It's really easy!)
What never to say or do when talking to a reporter and why
The top 3 items you need to get the PR results you want…fast!
The top 4 PR myths… Exposed!
What to avoid wearing during a television interview… or else!
How to get top reporters to contact you now and much more!
BUZZ ABOUT THIS BOOK
Many of you know or at least know of Melanie Rembrandt, a successful copywriter. Her new book, 'Simple Publicity', is a solid, how-to book well worth reading and having – get it at Amazon or 1WinPress.com. It's got plenty of checklists, templates doe's and don't's, resources.
Simple Publicity' is a simple read that provides valuable, public relations information for small business owners who want to build buzz and grow their organizations quickly and cost-effectively.
If you are starting a business and want to build credibility and bring in new sales fast using the power of publicity, check out this book. In a matter of hours, you'll know how to contact the media to get press coverage, give great interviews, and create press-releases and media kits, and much more!
There are hundreds of books out there related to public relations and marketing, but "Simple Publicity" by Melanie Rembrandt breaks through all that clutter. It's provides easy-to-read tips and guidance on how to build buzz — without spending a lot of cash. Anyone from new business owners to entrepreneurs can benefit from her expertise. She explains how to talk to reporters, write press releases and media kits, and even what to wear during an interview. She also sheds light on the mysterious world of search engine optimization. If you're busy and overwhelmed with information but still want to find a way to get the word out about your business, then this book is for you. This book really helped me think about how to get word out about my products — and especially how to do it myself, without paying tons of money to someone else. From crafting pitches to thinking big-picture about how to present oneself, this book has a ton of useful ideas.
Entrepreneurs are challenged with time, energy and focus. They are busy running their businesses, and they need help with their PR and SEO efforts and guidance on how to do it efficiently. Finally, here's a simple guide on how to do your own publicity! Melanie Rembrandt has condensed her extensive experience and success in the field of public relations into an easy, step-by-step approach anyone can follow.
I love books with action plans. Rembrandt's book is full of them! She shares practical steps and actions that you can take even without a big, fancy budget. Loved all the little in-between stuff that nobody else writes about but that's so critical to succeeding in any PR effort. Get Rembrandt's book, and get known!
The information in this book helped me get noticed by key media-members, increase my income and catapult my career success! Veteran publicist and SEO copywriter Melanie Rembrandt reveals her PR secrets in a simple format that's affordable and easy-to-read. If you want to make more money and take your business to the next level, buy this book.
I wish that Simple Publicity was written when I started my business. If you're a small business owner who knows that PR is crucial – but you have no idea what to do or how to approach editors – this is a fantastic resource! To me, one of the most impressive parts of the book discusses how to talk to a reporter. Melanie breaks down a number of "do's" and "don'ts" including, "Ten simple questions you should never ask a reporter," "How to talk in sound bites" (a great skill that's important for people to practice) – even what to wear on camera. And I love how she discusses how to guide the discussion the way you want it to go. I had to learn those PR tips through trial, error and a lot of research. Having this information in one easy-to-read book makes this an invaluable resource. I also found that the book's format made it easy to find what I was looking for – and the level of detail Melanie provides made it easy to understand the concepts. The terminology is clearly defined and the book is cleanly organized. For the time-challenged entrepreneur, that alone will save you tons of time. Plus, if you have no idea what to do first (or next,) Melanie's easy-to-scan lists, chapters and topics will give you guidance in almost any situation. Not sure how to write a press release? Melanie breaks it down, step-by-step. Not sure how to pitch an editor? She's got you covered. It's like having a PR expert on call whenever you open the book. Even if you already own 10 books on PR, I'd still buy this book – what you learn will help your business (and your profits) for many years to come.
Melanie is a great publicist and PR pro and her book is full of great advice and "to do" lists. It is a great resource for all small businesses that need PR and don't know how to get it. This is a fun book to read, an easy book to use, and any company or solopreneur can benefit from this.
Melanie, thanks for writing 'Simple Publicity.' It provided a simple roadmap to do my own public relations and was extremely informative and helpful. I look forward to using all of the publicity and SEO tips, tactics and insights in it to introduce my new business to the media while saving time and money. In my judgment, it is a 'must read' for anyone who has a product, a service or a business that the world needs to find out about.
Thanks for the info Melanie! I purchased 'Simple Publicity,' and I loved it! Soooo helpful and such a fast easy read, which was perfect I got to read it through fast once to get an overall understanding. Now I'm going through the book slower and using it as a workbook. Thanks again!
Simple Publicity' by Melanie Rembrandt is a book every business owner and entrepreneur needs to own. You may offer the highest quality product or service in your field but if you can't get your message out…your business is just a well-kept secret. Public relations is vital for any business to thrive, especially in today's 24/7 social media world. Melanie shares an easy to follow approach that anyone can use. Her expertise and experience come through as she guides you step by step. She also provides many great resource's in the book, which will help as your implementing your own public relations campaign. This is a book you will refer back to time and again as you apply Melanie's simple approach to getting your message out am promoting your business. If you can't afford to hire a publicist…this book is the solution you're looking for.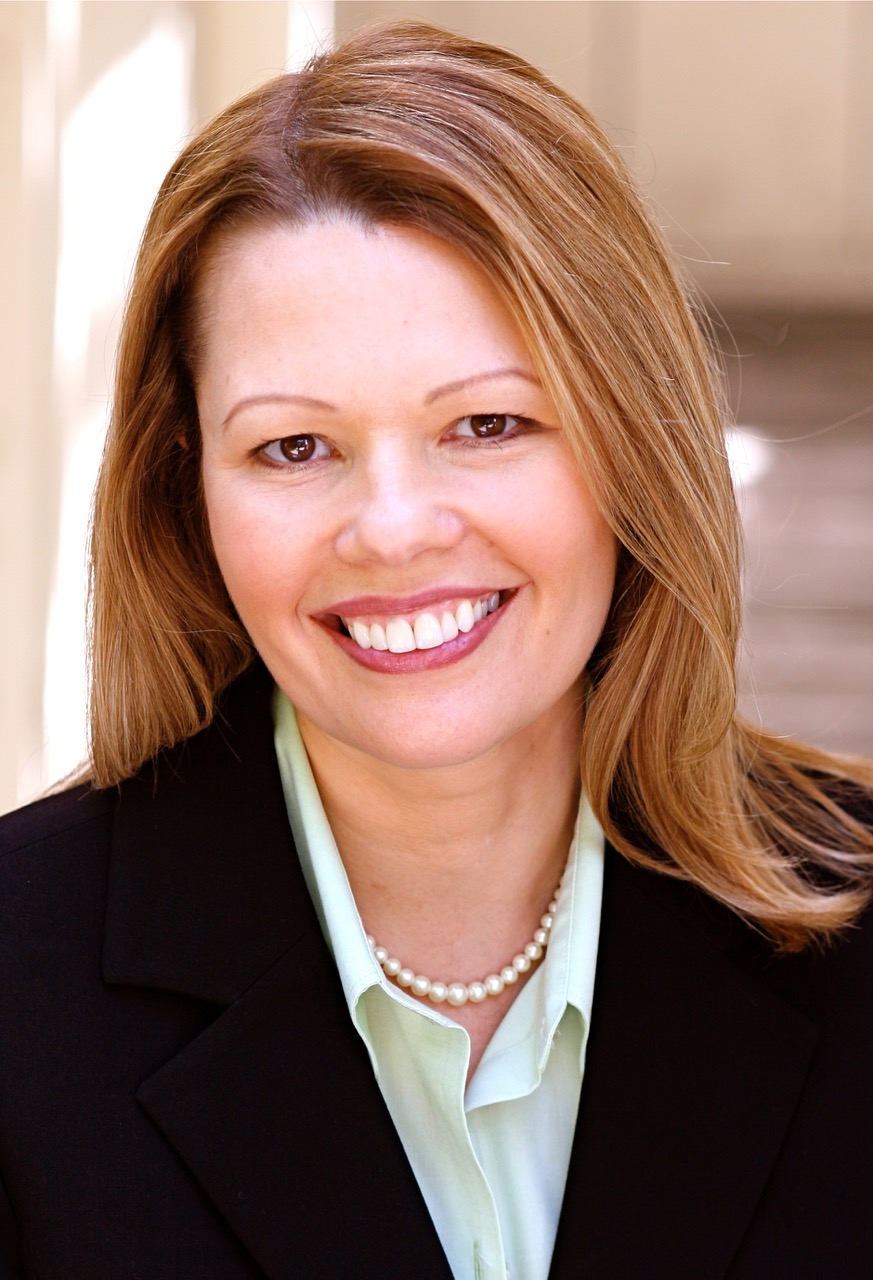 ABOUT THE AUTHOR:
Melanie Rembrandt is one of the country's top, small-business, public-relations experts and the founder of Rembrandt Communications®, LLC,
www.rembrandtwrites.com
As a PR consultant and SEO content strategist with 20-plus years of experience, an award-winning writer with hundreds of published works to her credit, and the author of "Secrets of Becoming a Publicist," (American Writers & Artists), Melanie has an excellent, track record for helping entrepreneurs get the targeted, national media-attention they need to boost awareness, credibility and sales fast.
A magna cum laude graduate of the prestigious UCLA School of Theater, Film and Television, Melanie is the PR expert for StartupNation, SmallBiz America, and Little PINK Book®.
She also provides training-presentations to organizations nationwide and valuable tips and information via her products, services and newsletter at www.rembrandtwrites.com