Got Local PR? Think Bigger for Better Results!
It's time to set large, PR (public relations) goals and exceed expectations!
Do you love your current public relations (PR) plan? Do you even have one in place?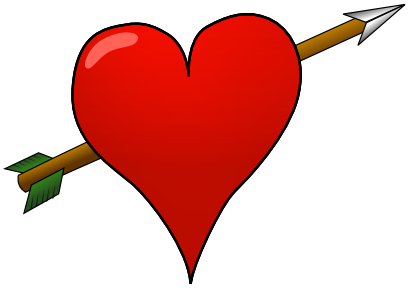 If not, you are losing out on third-party credibility you simply cannot obtain in any other way. And if you are just concentrating on local media, it's time to branch out!
Valentine's Day is almost here, and cupid is waiting to strike.
Isn't time you fell in love with your PR activities?
Here's how…
6 Steps to Skyrocket Your Business to Stardom!
1. Write down your unique solutions.
If you don't have a marketing plan in place, this is where you start. Make a list of all of the problems you solve for your target-market and why you are different from the competition.
2. Be creative.
Take your list from the step above and think of a clever way to communicate each solution, or message, to your audience. For example, maybe you have someone dress up in a bear costume outside of the local grocery store giving away coupons for your famous "bear claws." You can offer photo/video opportunities with the bear, and use them in your marketing and publicity materials.
3. Go worldwide.
Stop thinking local and small. Why not tell the world about what you have to offer?
Let's say you do the "bear costume" activity above. Don't stop there. Take it online. Ask people to vote for their favorite "bear" photo or video and win a prize.
In the process, you'll build excitement, get more site visitors and draw attention to your products and services. That's free advertising… and it's more credible because it's coming from others.
4. Write an interesting press-release with search terms.
Today, press releases are all about letting people know you have news online. But instead of writing a boring release about your company, add some excitement and information people will find valuable.
For example, take a photo or video of your bear costume and add that to your announcement about the contest. And be sure to use keywords relevant to your news in the release. This way, the search engines, media members and your target-market will find the news much easier. (To find out how to write a good press release, check out the link at the end of this blog, or take a look at "Simple Publicity."
5. Get the word out.
Know that reporters are not necessarily going to start calling you when you post your press release. There is just too much "noise" out there. You need to do more.
Call targeted, media members and let them know about your activity. For example, if you know your "bear" is going to be at the local store, let the press know about it in advance so they can be there. If they don't show up, take your own photos and send them to the press.
Post your news on social media, write a blog about it, send a note via e-mail to your customers, add it to your newsletter, and more. Think of all the ways you can get your message out, and do it!
6. Use the results.
When your PR activity finishes, use the results to your advantage. Follow-up with new, potential customers who registered for your newsletter, commented via social-media or took part in your contest/event/activity. Use their photos and testimonials to market to new customers.
Look at your Google Analytics and see which content got the most clicks and worked best. Then, write more of that popular content. If your PR activity was really successful, you can even turn it into another PR activity by creating a new press release, blog, white paper, video, etc. about the successful results!
This is just the beginning…
There is so much you can do when it comes to public relations so don't settle for small, local activity. Be creative and get the word out to your target market and specific media-members.
It takes time and effort, but it can be fun and exciting. Plus, you can significantly boost sales and worldwide, online awareness in the process. But most important, you'll obtain third-party credibility from outside sources that money can't buy!
Now, what are you going to do today to jumpstart your public-relations activity?
For additional help with your SEO press release and PR activity, please see these insights and feel free to contact me here.
6 Steps to Skyrocket Your Business to Stardom
Click To Tweet