5 Ways For Your Customers to Fall Madly in Love with Your Marketing Message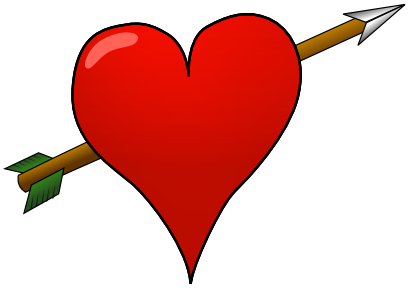 Do You Love Your B2B Content Results?
When it comes to your B2B content, you may have an outside copywriter write it for you. Or, you may try to follow all of the tips and insights out there and write it yourself.
Either way, when was the last time you reviewed your process?
What are your response rates on your call-to-action?
Do readers share your content with others via social media?
Are sales and SEO rankings on the rise?
If you don't see the results you want, it's time to take action. After all, when copywriting works, it can skyrocket sales, online awareness, credibility, and more. But, if you don't have a specific content plan in place, you can lose a lot of time, money and resources.
With this in mind, here are some tips to feel more love for your messages and experience positive results…
5 Ways To Get Cupid's Arrow To Hit Your Customers!
1. Review Your Stats.
Do you really know what's going on with your content? If not, check your Google Analytics, social media data, customer comments, and more.
Look at what people are clicking on most and sharing with friends. This way, you'll know what content is popular and what your target audience really cares about. You'll also see which topics to avoid and which ones create buzz.
2. Use Your Data.
Technology gives you the information you need to improve your online reputation, customer relationships and sales… but only if you use it. Once you review your stats, take this information and update your editorial calendar.
What topics can you write about now and in the near future that will provide interesting information and value to potential and current customers?
What keyword phrases do you think people are using to find your business online right now? How can you use these in your titles and overall content?
How can your respond to each customer comment personally to provide more value?
3. Entertain!
When you post content, make it interesting! Give people something to talk about and share with friends and family members.
Provide humor, personal stories, information relevant to current trends, industry news, inside event updates, and more. Your content gives you the opportunity to share unique insights about your business, benefits you provide and a personal side of your organization.
Plus, it's a way to convey your brand message in a way that your competition can't touch. Think about what your customers want, and give them content in a fun and honest way that will increase engagement.
4. Try Various Mediums.
If you only offer blogs, it's probably time to make some changes. How about creating videos, Infographics, podcasts, newsletters, case studies, eBooks, online events, white papers, and more?
By creating and distributing your content in various ways, you'll spice things up a bit and be able to reach your targeted audience members at different times. This not only allows you to provide new and interesting messages to customers, but it also offers more fun activities for you and your team, too!
5. Communicate Regularly.
Once you start publishing fresh new content, regularly review the results and make appropriate changes for improvement. Respond to customer feedback, social media posts, questions, and more as soon as possible (whether it's good or bad).
Let your customers know that you care about their comments and suggestions. This way, you can create long-term relationships with them and positive word-of-mouth you simply can't buy.
Give Customers What They Want And Feel the Love!
Instead of just wishing you had more customer love for your products and services, do something about it!
Review your data and discover what they want and find interesting right now. Then, use this information to develop a content plan that provides unique and entertaining information in various ways.
Monitor results and make changes as necessary to meet the needs of your target market. After all, you want your customers to read your messages, share them with others and take action on your call-to-action. This way, you'll build long-term relationships your competition can't touch.
Are you ready to feel the love for your content?
Tips to Make Your Customers Fall in Love with your Marketing Message.
Click To Tweet