Simplify Your Small Business Podcast
You're a busy entrepreneur, and your time is extremely limited.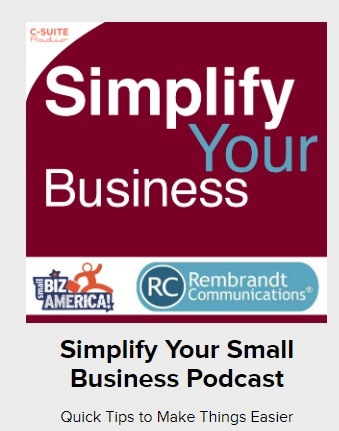 We also know you are overwhelmed with all of the information out there, your "To Do" list and everything you need to get finished on a daily basis to meet your budgets, deadlines, payroll, and more.
As fellow small business owners, we get it.
That's why we've created this podcast…
In just minutes, you'll get valuable and current information you can use to grow your business right way.
We'll provide simple tips you can use to:
Create great content fast that boosts sales and credibility;
Discover what you really need to know about search engine optimization to get noticed online:
Learn how to promote your unique marketing message out to the right audiences at the right time; and much more!
Now, you can get the insights you really need quickly and easily on your way to work, during your workout or anywhere you want to listen to our podcast.
Are you ready to get some simple tips to grow your business fast so you can spend more time doing what you love to do in life?
We can't wait to help you grow your business,
David Wolf and Melanie Rembrandt
And to learn more about us, click on the links below: